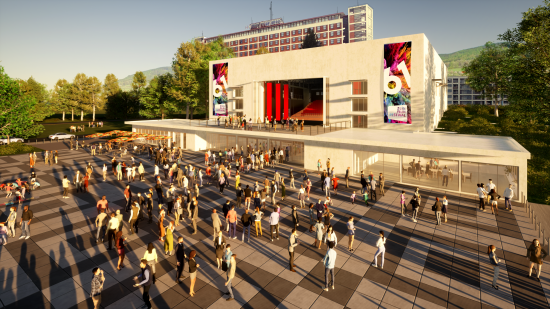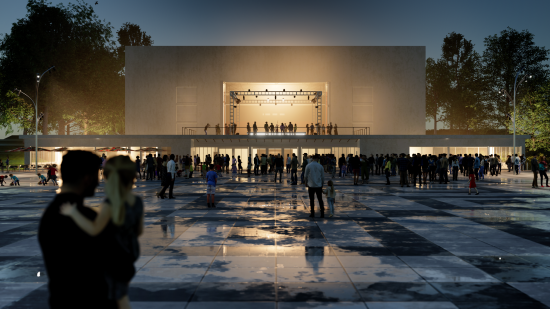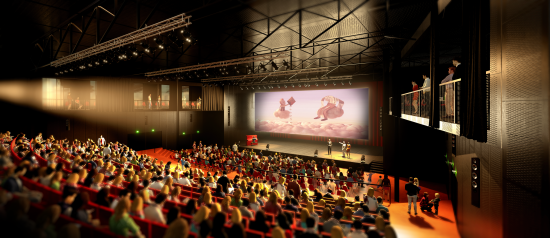 Rehabilitation of the Grand Cinema in Zlín
Year

2021

Program

Réhabilitation

Client

City of Zlín

Status

Competition

Surface

2,760 m2 / 29,708 sq. ft

Cost

€9,400,000 (excl. tax)

Location

City of Zlín, Czech Republic
The Zlín cinema occupies a central place in the city's cultural history. Built near the entrance to the Tomas Bata shoe factory, its existence has marked generations of workers. Until it closed, it was at the heart of Zlín's opening to Europe, positioning itself as a resource for the development of the European festival of films for young audiences.
The new arrangement of the cinema is the basis for variable geometry occupation so that it remains a place of culture for all.
Its rehabilitation is a privileged moment to consolidate existing spaces and uses and to create new flexible spaces for hosting various activities.
To respect the heritage quality of the building and preserve the proportions of the main volume designed by Gahura, a secondary structure is integrated into the new thermal exoskeleton that covers the cinema. It supports and perpetuates the existing structure while integrating technical equipment within its frame.
By opening the facade and creating a terrace overhanging the public space, the project reinforces the relationship between the site and the city.